News
---
Sponsor Offer - Steve Jordan Motorcycles
Steve Jordan Motorcycles - one of our title sponsors - is offering free power compliance checks on their Dynapro Dyno, this is the same type of Dyno as used by Bemsee to control the Thunderbike and Thunderbike Extreme classes
This superb offer will allow you to check the power of your 2014 race bike is class compliant as well as fueling correctly and performing as expected
On top of this they are also offering a 20% dicsount off their normal dyno rates for any fueling changes wether it be Bazzaz, Power Commander or Re-Jetting
The offer will be running until Feb 2014, if you wish to take advantage of this fabulous offer all their contact details and opening times etc are on the linked page below:
http://www.stevejordanmotorcycles.co.uk/contact-us.asp
Nellie
---
Snetterton 300 - 23rd March 2013
Snowtterton 300
Round 1 saw the Thunderbike and Thunderbike Extreme Championship being contested at Snetterton on the 300 circuit.
Last year's competitors will remember the balmy 20 degree plus weather we had last year all weekend and the close racing this delivered, alas this past weekend could not have been further removed as it barely got above 3 degrees all weekend and was either bitterly cold or bitterly cold and snowing!!
This forecast weather had mean that the first meeting numbers were lower than expected but despite that there was still a mixed grid in excess of 30 bikes and a glorious site it made with all the fresh pain and innovations that had rolled out for round 1.
Once everyone had defrosted their visors and warmed their bikes up we were out for Qualifying on the Saturday morning which was a wet and snowy affair that saw the new Gladius rider Adam Cross take pole with a time of 2.30.26 from Kawasaki ZXR750 mounted Colin Walkey and Ducati 748 mounted Adam Nelson in Thunderbike's. On the Extreme grid it was Triumph mounted Andrew Collins on pole with a time of 2.34.31 from Gary Rodwell and Dave Shelvey both on GSXR 600's, this meant the mixed front row consisted of; Adam Cross (Pole), Colin Walkey (2nd), Andrew Collins (3rd) and Adam Nelson (4th)
As the day progressed the snow started to fall in heavier and heavier flurries until eventually at 1500 the Thunderbike and Thunderbike Extreme grid lines up, at this point a light flurry was falling.
As the warm up lap commenced so did a heavier fall of snow and the warm up lap claimed first Dave May, at the first corner, then Colin Walkey at the Second Corner and finally Andrew Collins at the 6th Corner. There were also a number of retirees and other fallers as the lap progressed so a rather smaller grid formed up for the race start than did for the warm up lap.
The race however proceeded with a rapid Adam Cross taking a lead into the first corner never to be challenged in the very tricky, wet and cold conditions and as the weather and visibility deteriorated it was Adam Cross who eventually won Thunderbike's and claimed the fastest lap from Adam Nelson and Nathan Marston and in Extreme new to the championship Extreme rider James Robinson took the win from Ben Mills and Tom Schofield.
The club then suspended racing for the remainder of the day and as the snow continued to fall and all the riders retreated to places of warmth to wake the next day to a covering of snow and a subsequently cancelled meeting due to the adverse conditions
As we all packed up out gear and bike to leave Snetterton the top three in each Championship were:
Thunderbike's
1. Adam Cross 25 points
2. Adam Nelson 20 Points
3. Nathan Marston 16 Points
Extreme
1. James Robinson 25 Points
2. Ben Mills 20 Points
3. Tom Schofield 16 Points
The next round will hopefully be at a warm and sunny Pembrey circuit on the 4th and 5th May 2013. Let's hope we get a full grid for the meeting and some excellent Thunderbike racing
A big thunderbikers thank you must go to all the Bemsee officials and Marshall's who endured the terrible weather to ensure we at least got one race in this weekend, watch the BEMSEE site for news on rescheduled races during upcoming meets.

See you all at the next meeting
Nellie #20
---
Thunderbikes to use in the Thunderbike Series - Tigcraft SV650
Hello again Thunderbikers one and all, the third bike in our features on bikes to use in the Thunderbike series comes from the Tigcraft workshops in the form of Steve Parrott's SV650 Tigcraft.
A stunning piece of handcrafted motorcycle engineering, enjoy........
In 2010 Dave Pearce of Tigcraft fame built the chassis round the tried and tested SV650 engine, running GRXR1000 K5 forks and '06 R6 swing arm.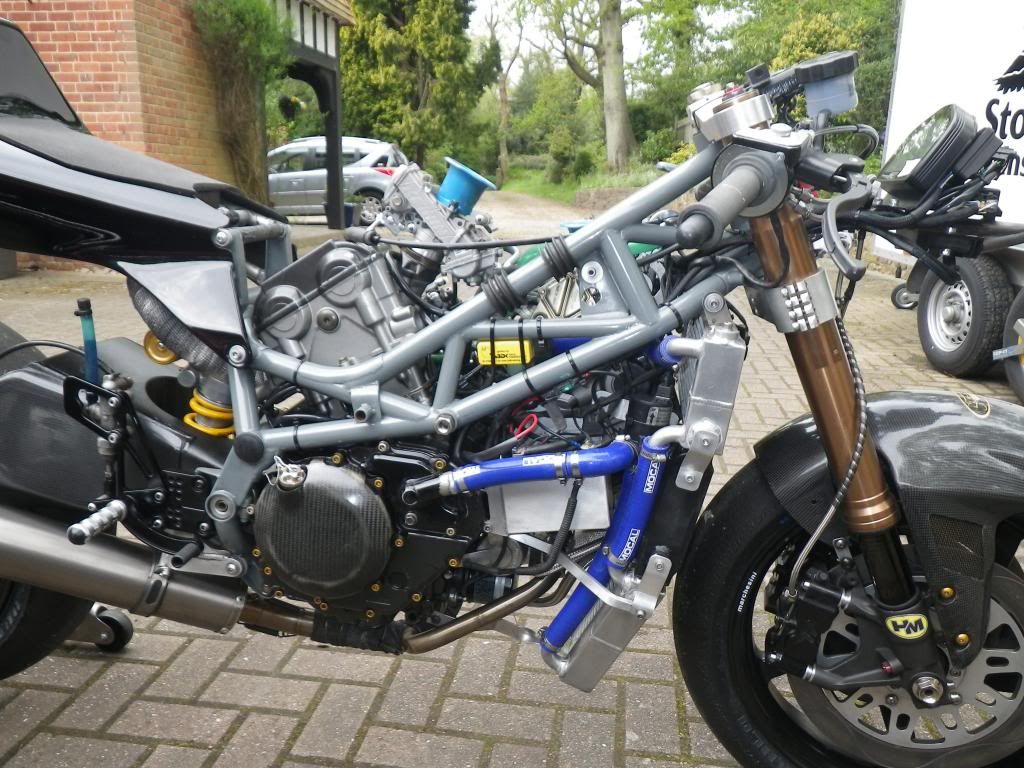 The standard yokes were scrapped and bespoke adjustable yokes fitted with taper roller bearings. The rest of the front end has a Performance technology master cyclinder and brakes fitted to PFM ductile iron discs and a 16.5 inch front magnesium Marchesini wheel running a Pirelli slick.
The body work is from Replicast and is a copy of Hondas 2005 GP250 bike, this close fitting body work created cooling problems and a second delta shaped radiator needed to be fitted with an external electric water pump.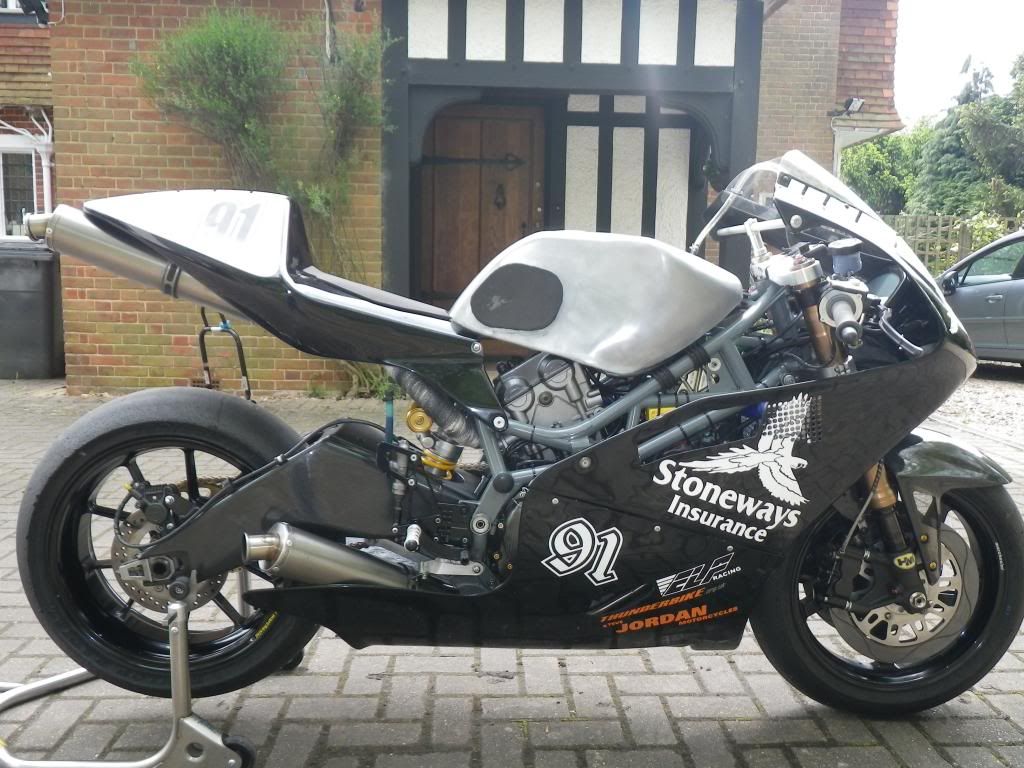 The exhaust system build by Mark Dent needed some thought as the rear swing arm was from an R6 and had no routing for a rear exiting V twin engine. The solution was to run a pipe from each cylinder, one exiting low and the other under seat and running a small bore balance pipe along the left side of the engine linking the two pipes.
The engine is bored to 700cc with some head work, race cams, and lightened and balanced bottom end, close ratio gearbox, slipper clutch and race alternator. Keihin flat slides look after the fuelling and the tank is a bespoke aluminium item. A light weight lithium battery proved inadequate to start from cold and the bike is wired for an external booster battery for starting.
The rear shock is Ohlins TTX and the forks run Ohlins internals. The rear wheel is a 17 x 5.5 Marchesini which allows a Dunlop 165 slick that was run on the original GP250 bikes.

The building of this bike has been a fascinating experience which has brought me in touch with a load of excellent people who have proved invaluable with their help and advice.
Steve Parrott
---
---
Tech Inspection - What they are inspecting on your Thunderbike!
HI All,
Mark has kindly let me lift this from his motoforum post and publish here as a useful guide on what is checked when the tech officials scrutineer your bike, it makes for a useful read whether your new to the class or not, enjoy!
As there are so many rookies starting racing this season it can be a bit strange at your first meeting going to Tech Inspection, what to expect, what are we checking for? Well this is looking through my eyes at what i'm doing when looking at your bike, hopefully it gives a bit of insight to what we do.
Technical Inspection ……………what the hell am I doing?


Current Road Race Technical specs can be downloaded from the current ACU handbook on the ACU website. http://www.acu.org.u...NDBOOK_2012.pdf


A little insight into what we, the technical officials are doing and looking at when we inspect your bike, this is a typical set of checks but not exhaustive.
Most officials have their own routine but basically all will check for the same items
First up you will be asked to support your bike from the rear and asked for your scrutineering card (which you will have signed) From this I will check your race numbers, Frame/engine numbers and transponder number
PLEASE NOTE: Anyone found in possession of a machine with tampered or defaced engine or frame numbers will not be allowed to race, even if you have receipts for the bike.
Details can be found here http://www.bemsee.ne...-a-racers-guide

I will start at the front of the bike checking handlebar clip-ons are securely fixed and the handlebars and levers do not foul the fairing on full lock. Levers have rounded ends. The steering lock is checked such that full lock is only limited by the lock-stops, not by steering damper or brake fluid reservoir smashing the clocks!
Tug on the front fairing to ensure secure fixing.
The throttle will be twisted to ensure it freely returns to its fully closed position (i.e. it snaps shut)
The front brake operation will be checked and if your front brake hoses have a split (1 into 2 join) this must be above the bottom yoke, linked callipers are not allowed. Most race bikes run 2 separate lines from the front master cylinder. While doing this I will also check that there is no play in the head bearings.
Check that clocks are mounted secure and there is a manual engine kill switch accessible.
Coolant, plain or distilled water only, no additives in the cooling system what so ever. There is no requirement for a separate catch bottle for coolant overflow but is advisable to direct into the belly pan if no catch bottle is used.
From here I will check the front wheel, Calliper bolts tight? No visible signs of brake fluid leaking?
Disk bolts all present and tight? Front tyre fitted the correct rotation, valve cap fitted and any wheel weights fitted must be taped up with gaffa tape.
While I'm kneeling down I will also check for any signs of leaking around the fork seals.
I will now check that the oil filter, sump bolt and filler cap has been lock wired (some bikes also have dip sticks this also has to be wired) any engine breathers must vent into a collection bottle.
I will run my hand along the bottom of the fairing catch tray, this must be solid with no holes in it and constructed to hold at least half of the total oil and coolant capacity of the engine (generally all race fairings are designed to this spec) as well as the fact that any openings in the fairing are at least 50mm above the bottom of the fairing. If drain plugs have been fitted these must be taped in place from both sides.
Check left hand side foot peg has rounded ends, if standard 'flip up type' pegs are used hero blobs have to be removed. Make sure no excessive play or loose joints on gear shift mechanism. Side stand removed? (Yes it does happen!)
I will check the rear shock visually as well as the upper and lower mounting bolts, I will ensure there is no play in the wheel bearings or swing arm by forcing the wheel from side to side. Shark fin fitted?
Check all sprocket nuts are present and tight, chain adjustment correct?

From here I move to the right hand side of the bike, rear brake working? Calliper is checked for movement and all disk bolts are present and tight.

Exhaust end can securely fitted and exit does not project beyond any part of the vehicle or its bodywork.
Check right hand side foot peg has rounded ends, if standard 'flip up type' pegs are used hero blobs have to be removed, rear brake lever securely fitted and not fouling on any part of machine.
From here I will move to the top of the bike and check fuel tank/filler cap is securely fastened, give the rear seat unit a tug and make sure mounting is solid.
Assuming the bike passes inspection your card will be signed and a 'Day Sticker' affixed to your bike.
If for any reason your bike fails you will be asked to fix the problem and bring the bike back to recheck

NOTE: Technical officials are here to get you on track, not to try and stop you. We will endeavour to be as polite and helpful as we can be to get you on track and to enjoy your racing.
Mark
---